This is what I am currently working on.
My new Love is depron (foam board); you can get it at Wal-Mart or art stores. Depron is VERY stiff and light, but it is also sensitive to crushing or impact damage. I put a basswood strip around the front area of the delta wing but didn't do it for the elevons and one good hit crunched the corner. I was able to get the shape back but next time I will be putting strapping tape over the elevon corners to help with the crunching.

This is one of my favorite images
Here you'll create or edit a custom page for your Web site.
Use this template for any additional information you need such as products, pictures, fan clubs, links or just more information It's important to regularly change the content on your site and make updates to the information that you display. Doing this will help you to get more return visitors.
Try a "plank" Sloper
Plank planes are a flat piece of 4mm cloraplast, depron or blue fan fold insulation that you score at 30% of root and tip and bend down and glue to make a "airfoil". My first one was bent at ½" at root and ¼" at tip. The Depron I used will relax back some so you need to over compensate for the bounce back. I have made one out of Depron and the airfoil is really an airfoil, creating lift and really flying. I also put an inch of dihedral in the plank plane for stability. These are very easy to build and I love the simplicity.

FAN FOLD
What is it? It is an insulation you buy in Home Depot, Lowes type store. It is around 1/4" thick and come with each sheet attached end to end kind of like an accordion. It is sold for about $1 a sheet in sets of 25 or so sheets (So is minimum to buy). It is used at constructions sites so keep your eyes open and you may be able to find pieces for free. The pink stuff is not advisable to use because it is too brittle.

The E-Zone has much to offer to flyers of all levels
The E-zone is where to find reviews on new and old kits, articles on everything in the R/C world, but its biggest tool in the Discussion groups. I found this site early in my R/C days (8 months ago) and I have become a much better pilot and builder because of the discussions I have read. If you have any and all ?'s about anything R/C this is your place with over 20,000 members there is always someone who knows what your problem could be.
It is also a great place to find new scratch designs and ideas for your own creations. And of course it is a GREAT place to show off your latest and greatest scratch builds!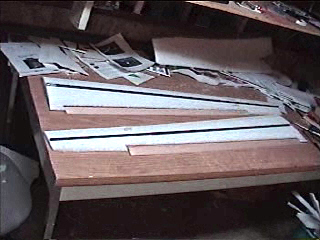 The wing of my 96" fox
Originally I used carbon rods to stiffen the EPP wing but I replaced them with Graphite rods (x4 stiffer and almost at light).